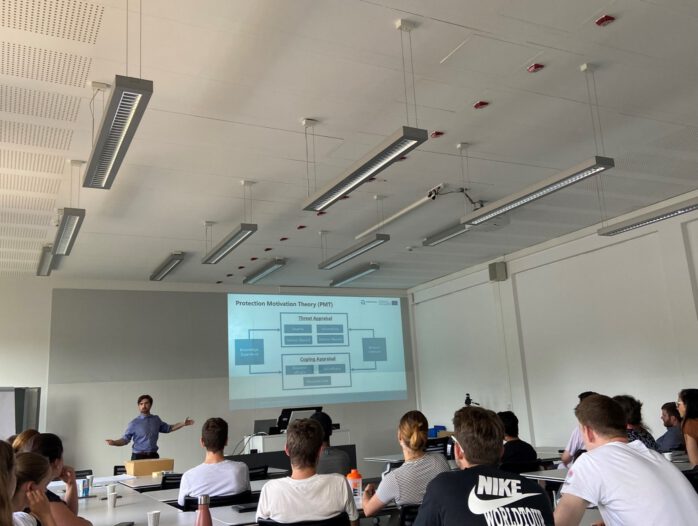 On June 19, 2023, the Helmholtz Center for Information Security (CISPA) and the University of Saarland (UdS) collaborated to host a comprehensive event, "CySec4Psych – Cybersecurity Beyond Computer Science," at Saarland's University of Applied Sciences (HTW). The primary objective was to acquaint students and their esteemed lecturers with the project's extensive research and findings.
This event was meticulously designed to immerse attendees in the project's materials and outcomes, offering a deep dive into the intricate relationship between Cybersecurity and Psychology. The agenda encompassed an enlightening introductory lecture that underscored the mounting importance of cybersecurity. It vividly illustrated the ripple effects of cyber-attacks and emphasized the crucial role of human behavior in these incidents.Moreover, attendees were treated to a thoughtfully curated World Café format, providing a platform for active participation. Here, they were offered the opportunity to delve into the methods of crafting awareness campaigns and to evaluate the effectiveness of social engineering measures within security strategies. The exercises were tailored to cater to diverse target audiences, highlighting the adaptability of cybersecurity practices.
In addition to the intellectual feast, the event provided a literal one, with catering services ensuring participants were energized and engaged throughout the day.The event's culmination featured a comprehensive overview of career prospects in the cybersecurity sector. It showcased the myriad opportunities available for graduates from a spectrum of academic backgrounds, reaffirming that cybersecurity is a field for the curious and the determined, regardless of prior specialization.We are really happy about how many students and lecturers showed interest in the topic of psychology and cybersecurity and want to thank everyone participating for the success of this event!